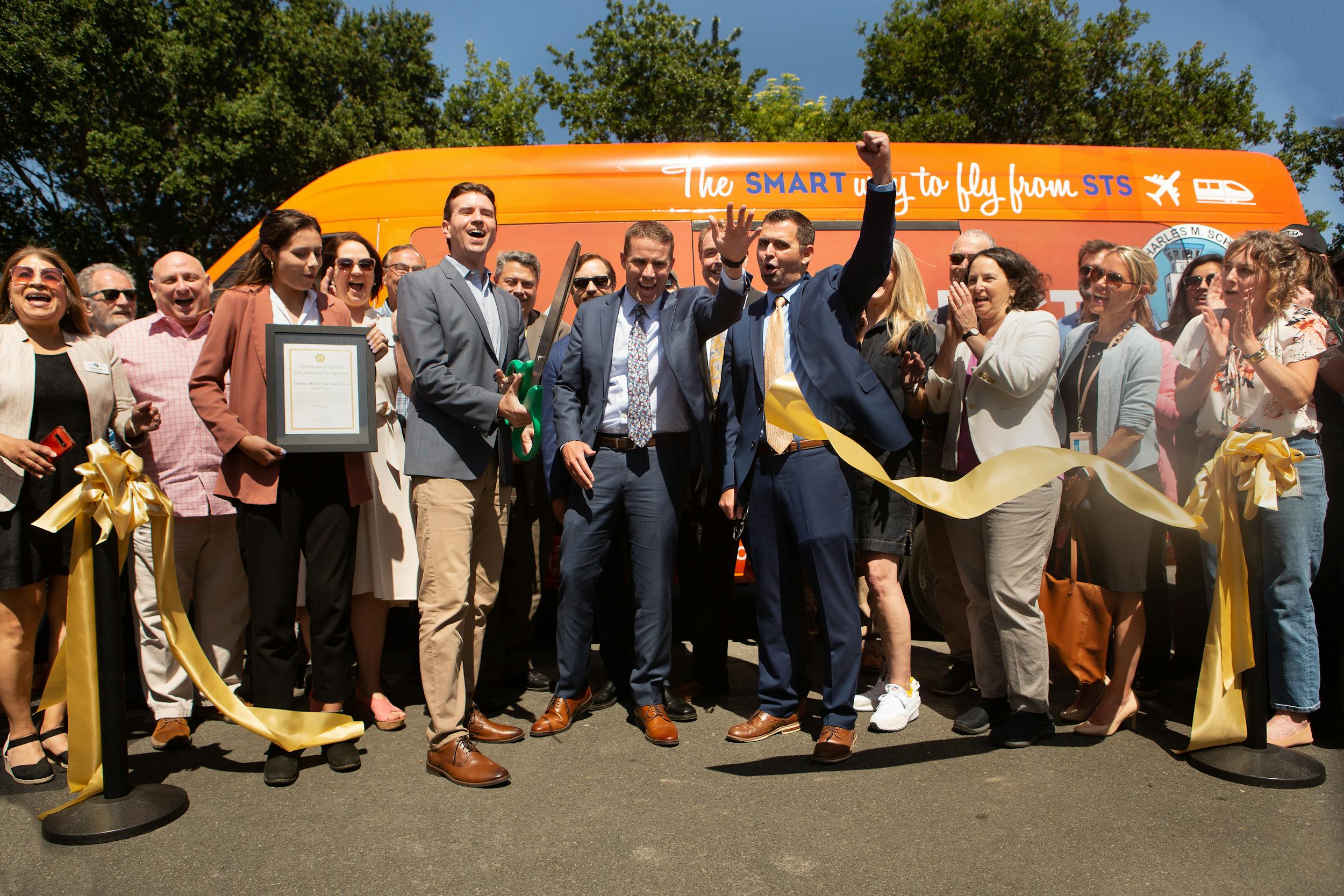 Press Release
Jun 16, 2023
Written by Newsroom
The Routing Company celebrates SMART launch in Sonoma County with Ride Pingo on-demand first mile last mile transit service
Milestone event marks TRC's first partnership with a rail entity and its support of multimodal transportation between urban and rural communities
June 16, 2023 – New York, New York, USA: The Routing Company ("TRC"), a global on-demand vehicle routing and management platform partnering with cities to power the future of public transit, today celebrated Sonoma-Marin Area Rail Transit ("SMART") as it cut the ribbon on its brand new on-demand SMART Connect service, powered by TRC's Ride Pingo. The event marks the launch of a five-year contract originally announced by TRC in March 2023.
TRC participated in today's ribbon cutting at SMART's Sonoma County Airport station alongside California Senate Majority Leader Mike McGuire, SMART Board Chair Eric Lucan, SMART Board Vice Chair Melanie Bagby, SMART General Manager Eddy Cumins, and Sonoma County Airport Manager Jon Stout.
SMART is the North Bay's passenger rail serving Marin and Sonoma counties. Its current 45-mile system is responsible for nearly 500,000 passenger trips annually and  includes stations in Santa Rosa, Rohnert Park, Cotati, Petaluma, Novato, San Rafael, and Larkspur. 
TRC partnered with SMART to offer accessible on-demand service and transit connections through SMART Connect – ultimately providing first-and-last-mile solutions for North Bay residents. The service is beginning with the Sonoma County Airport Station with the potential to expand to remaining stations.
"Today's ribbon cutting is more than a celebration; it is the launch of groundbreaking multi-modal transit powered by SMART that directly responds to local demand for improved reliability, flexibility, and convenience in transit," said James Cox, Chief Executive Officer, TRC. "Today's celebration also furthers innovation in transit in California, the connection of urban and rural communities, and ultimately, the advancement of equity and accessibility in transportation."
SMART's deployment uses TRC's full Pingo suite including the Ride Pingo™ app for riders, Drive Pingo™ app for drivers, and the cloud-based Pingo Dashboard™ for fleet operators. Features include Transit Connect™, which uses real-time data to guarantee transit connections for riders, and Pingo Journey™, a breakthrough in-app product that allows riders to plan end-to-end multi-modal journeys and hail on-demand transit, all in one place. With guaranteed transit connections, the rider experience is enhanced. 
"We are excited to welcome passengers on board SMART Connect and look forward to providing a seamless and efficient train-to-airport connection. Additionally, this innovative microtransit service will reduce car trips and support local employers by helping people get to and from this busy business corridor," said Eric Lucan, Chair, SMART Board of Directors.
Launched in October 2022, Pingo Journey™ integrates TRC's real-time routing technology with public transport infrastructure, allowing riders to hail on-demand transport rides and plan multimodal transport journeys all from the single Ride Pingo app. The feature makes Pingo the world's only app offering on-demand transport and end-to-end journey planning in one place.
TRC's award-winning Pingo platform includes the Drive Pingo™ and Ride Pingo™ apps and the Pingo Dashboard™ operations management tool, which together provide on-demand, paratransit, fixed, and flexible transport that enhances ridership of existing transport networks. Pingo has moved over 300,000 passengers to date. 
To learn more, visit theroutingcompany.com/products.
About TRC
Founded by MIT researchers and rideshare industry veterans, TRC is a global on-demand vehicle routing and management platform that partners with cities to power the future of public transport. Leveraging proprietary and unrivaled artificial intelligence, TRC delivers routing from multiple points of demand to one vehicle while enabling greater transport equity, accessibility, cost efficiency, and sustainability. Its leading product, the Pingo™ app, offers on-demand or advance trip requests and can operate in on-demand, flex, fixed, or paratransit mode. 
With a team spanning nine countries, TRC directly supports international operations and customer growth through hubs in Australia, Canada, Germany, Hungary, Poland, Switzerland, the Netherlands, the United Kingdom, and the United States. Learn more at theroutingcompany.com.
Media Inquiries
Lindy Norris
Vice President, Marketing & Policy
Investor Inquiries
James Cox
Chief Executive Officer