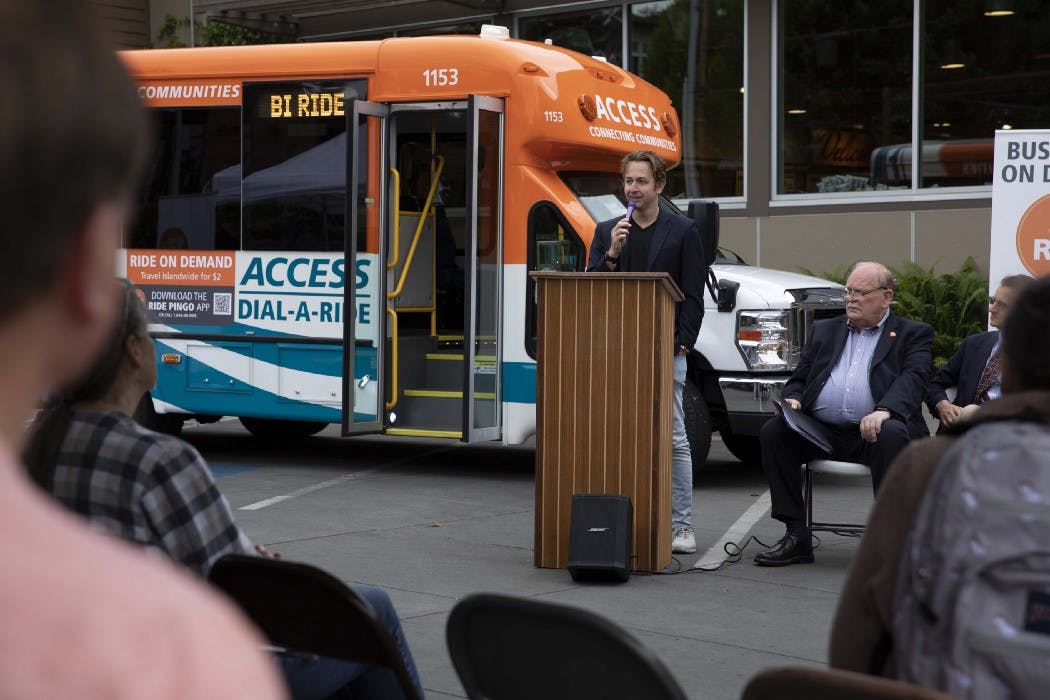 Our first public transit partnership in the U.S. | Kitsap Transit & TRC
Last week was an important moment for The Routing Company. We kicked off an innovative partnership with Kitsap Transit, our first with a public transit agency in the United States. We were proud to join John Clauson, executive director of Kitsap Transit, and other Kitsap County and Bainbridge Island leaders for the official launch event last week.
Our goal at The Routing Company is simple: We partner with cities and communities to power the future of public transit. Our team includes transit veterans, former rideshare industry leaders, public policy experts, and MIT computer scientists.
We come from different backgrounds, but we are all passionate about unlocking public transit's full potential; about making it easier and more convenient to share a ride; about reducing congestion and harmful carbon emissions by giving people a reliable alternative to getting behind the wheel themselves.
That's what this innovative partnership with Kitsap Transit is about. With Ride Pingo, an easy-to-use app built by The Routing Company and powered by our MIT-inspired technology, Bainbridge Island residents and visitors can now easily book, track and pay for an on-demand bus trip with BI Ride.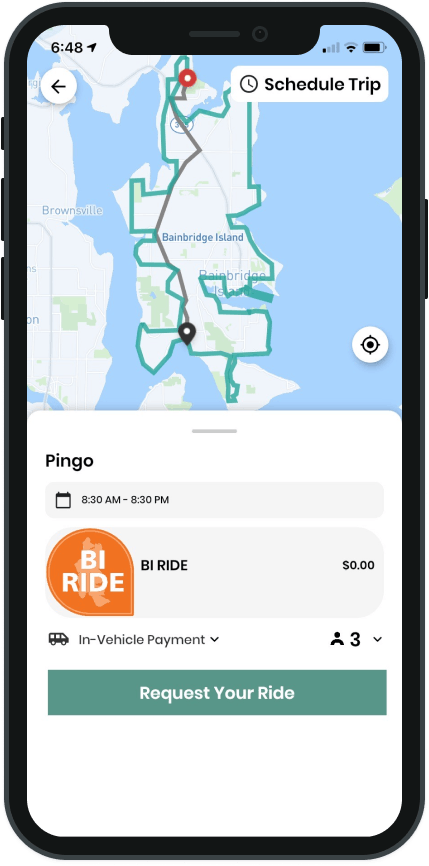 That means they can open up an app and request a trip with BI Ride that will pick them up wherever they are on Bainbridge Island and take them wherever they want to go on the Island within minutes.
Put another way, with Ride Pingo and BI Ride, you can push a button and get a bus, wherever you are on Bainbridge Island.
The Routing Company currently has live operations that are improving the reach and efficiency of transit in 6 cities on 3 different continents. We hope to have the same impact on Bainbridge Island that we are having around the world: Using groundbreaking routing technology to help transit agencies and operators save money and serve more people with the resources they already have.
Our vision at The Routing Company is that a community of any size, in any place, with any amount of resources can meet the transportation needs of its people. We see this launch and this partnership as very much in line with that vision.
We want to thank our partners at Kitsap Transit (especially Ellen, Karl, Jeff, Sanjay, Mike, Kathleen, and John) and BI Ride for the opportunity to work on this exciting effort. And to those of you looking for a safe, convenient and affordable way to get around Bainbridge Island, we look forward to serving you.