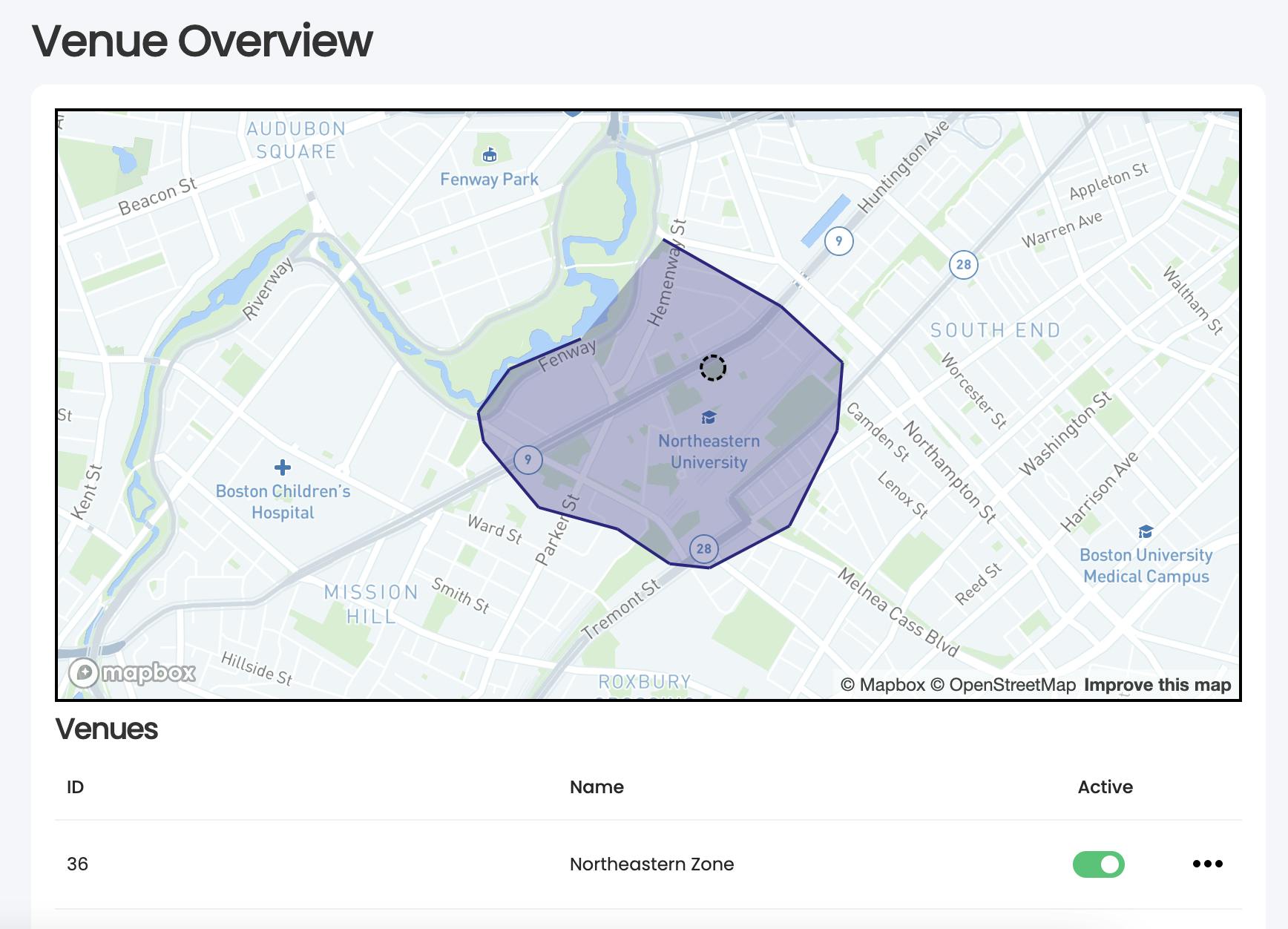 Introducing Venues
When we first launched Ride Pingo, we only supported simple point-to-point pickups and dropoffs. Soon after launching in our first few markets, our transit agency partners noticed that many of their riders were making requests very close together. Our partners asked if we could find a way to make the driving experience easier by having drivers go to one central location to service all of these pickups and dropoffs, without having to drive around the same block to each rider's specific pickup or dropoff point. Our solution to this was venues.
What Is a Venue?
A venue is a defined area within the service area where all requests will be routed to one specific point. Venues can be configured so that: 
only pickups will be routed to the specific point;
only dropoffs will be routed to the specific point; or 
both pickups and dropoffs will be routed to the specific point.
In the rider app, the user will be alerted prior to putting in their request that they will need to walk to a different pickup point if their requested pickup location is within a venue. A walking path will be displayed to the rider to help them safely walk to that pickup point.
If the rider requests to be dropped off within a venue, they will also be alerted prior to putting in their request. When they are dropped off, they may have to walk a bit to get to their final destination. Fleet managers can create venues easily via our dashboard. Using the dashboard, managers can draw the venue location on a map and set the pickup/dropoff point.
What are Some Common Uses of Venues?
Our transit agency partners have used venues in many different ways. One of the most common use cases is to create a venue around an existing fixed line transit station. 
For example, our partners at Kitsap Transit have created a venue around the Bainbridge Island Ferry Terminal, so that any riders who want to be picked up or dropped off at the Ferry Terminal will be picked up and dropped off in one convenient spot.
Venues can also be used in conjunction with one of our other features, Transit Connect, which allows riders to connect their on-demand trip to local fixed route transit. In this case, a venue is created around a transit station. If a rider requests a dropoff to a location within that venue, they will be asked if they would like to use Transit Connect to sync their dropoff with a fixed line connection departing soon after they reach the station. Having a venue in this situation ensures that riders are dropped off at the ideal location to make it to the platform in time for their fixed line connection.
Popular Destinations
Some venues are also set by our transit agency partners to be displayed on the home screen of the Ride Pingo app, so that a rider who is near one of the venues can tap on it and quickly set their location to be the pickup point within that venue. Internally, these are known as Popular Destinations, and allow riders to quickly navigate to the most requested locations within their specific service area.
For riders who are unable to walk to a pickup point within a venue, some of our transit agency partners allow riders to override the venue pickup point using an Access ID provided by the transit agency. Using this feature, the driver will drive directly to the rider's requested pickup or dropoff location. 
What's Next?
We have some exciting updates for venues on the horizon. One of our biggest updates planned for venues is the ability to create multiple pickup/dropoff points within a single zone.
For example, this could be useful for an airport venue, where there could be a pickup/dropoff point at each terminal. On the Ride Pingo app, the rider would be asked to select which point within the venue they would like to navigate to prior to requesting their trip using our Pin on Map feature.
Key Takeaways
Venues are a simple way for riders to be routed to one convenient location when requesting a pickup or dropoff to a commonly requested area. They route drivers and riders to a common location to reduce the issue of drivers having to drive to several different locations within the same small area. If you have any questions or would like to discuss how The Routing Company could help move your community, set up a call with our experienced team today.