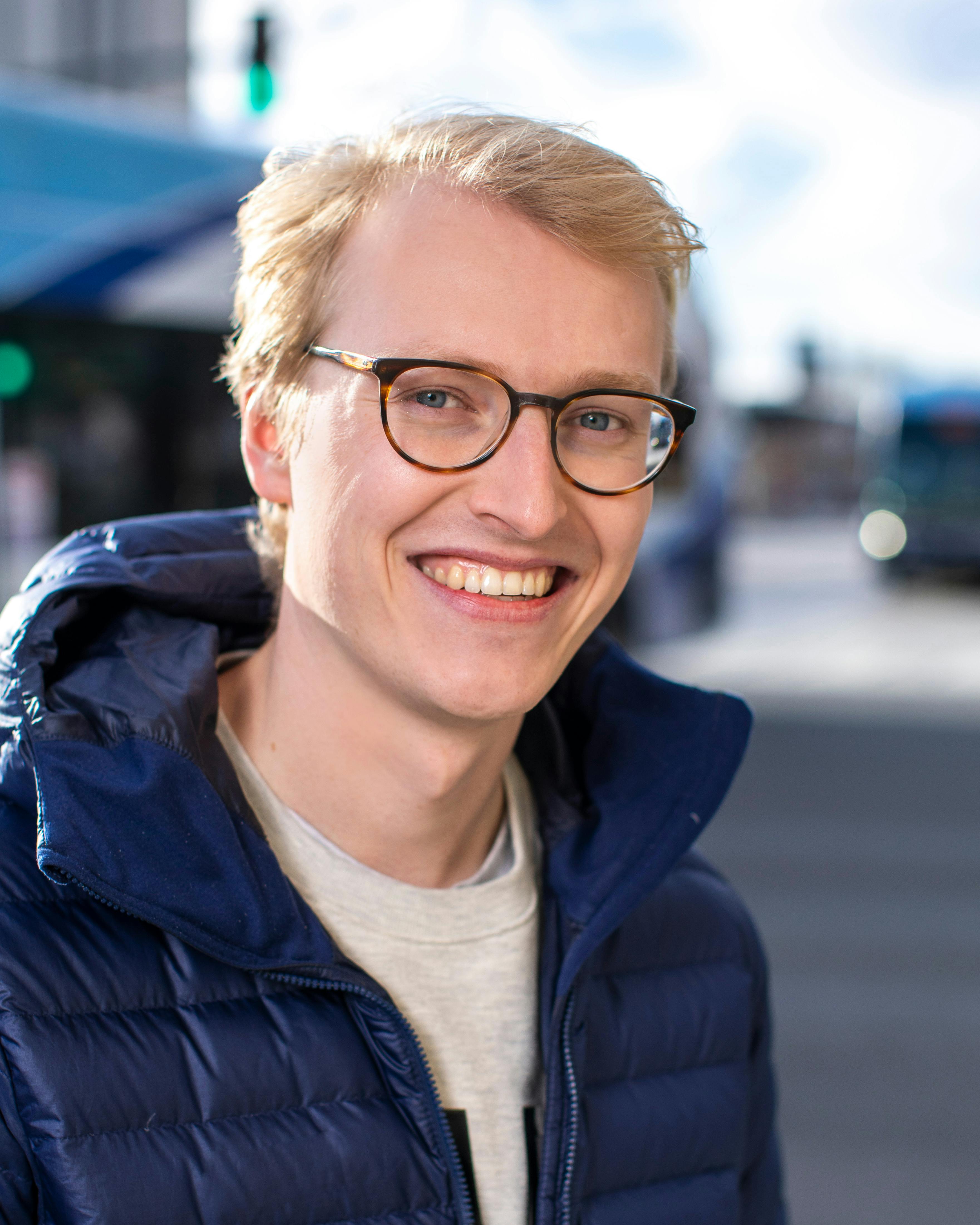 Life at The Routing Company: Menno van der Zee, Co-Founder
In this interview, Co-Founder & Staff Engineer Menno van der Zee shares how he came to develop an interest in the transit space, what he would do differently if he were starting the company today, and his advice for startup founders. Menno co-founded The Routing Company after completing an MSc from TU Delft and driving international research into optimization algorithms.
This interview is part of a series highlighting the people powering The Routing Company around the world.
What do you do at The Routing Company? 
I co-founded The Routing Company (TRC). Since Alex and I started TRC in 2018, I've worn many different hats. My background is in engineering, but I used the opportunity of founding The Routing Company to explore the business side of things. I initially took on the role of CEO, and also briefly led our Business Development team. 
I soon realized, though, that what I most enjoy doing on a day-to-day basis is building our technology. I now spend seventy percent of my time working with our engineering team – building our software and our core routing technology – and the remaining thirty percent of my time working on other parts of the company. That typically involves business development, strategy, and anything else that I can help with as a co-founder.
How did you develop an interest in the transit space? 
A few years ago, I spent some time in Singapore working as a researcher. I found the Singaporean transportation system fascinating. At the time, the public transportation sector was working towards some interesting milestones around access to transport. My work was focussed on building algorithms to route buses. The goals were to make peoples' everyday commutes more convenient and ensure that people spent less time sitting in traffic. It's a question that almost everyone has to deal with: "how do I get from where I live to where I work on a daily basis?". I wanted to figure out the best way for people to do that. 
Why did you decide to found The Routing Company?
I've always had an interest in the interface between research and business. As a student in the Netherlands, I led a tech incubator for the university. We were getting promising research out into the real world by building businesses around the research. I was surprised to see that there was so much innovative technology being created that simply wasn't being implemented in the real world. I realized that the most effective way to get exciting technology into the real world – where it could have a genuine impact on society – was to build a company around it. 
When Alex and I started working on the mobility algorithms which would ultimately underpin The Routing Company (and the creation of our Pingo technology powering on-demand transit), we both had a similar feeling. We were solving theoretical problems and writing papers on what we had found, but what we really wanted to do was apply what we had built in the real world. Our initial MIT research, published in PNAS showed we could efficiently serve all of the taxi demand in Manhattan with just 3,000 vehicles. There was so much potential for this technology to have a real impact on how people travel and live, and we wanted to put our research in motion.   
What are the benefits and drawbacks of co-founding a company, rather than founding it by yourself?
There aren't many drawbacks to co-founding a company. It's almost always better to found a company with two or more people, because it allows you to challenge each others' ideas. When you're on your own, you can very quickly get caught up in your own assumptions. I think that it's really important to keep questioning things when you're starting a company and none of your ideas have been validated yet.
You need a lot of perseverance to get a company started. You'll experience a lot of disappointment, and with two people, it's much easier to deal with those setbacks. With two people, you can also get at least double the work done that you can alone.
A lot of people are very protective of their ideas when they start a company. Our goal was to get our idea out in the real world as quickly as possible. We knew that we didn't have all the knowledge – nor the experience – to do that effectively, and so we looked for other people to join us in making that vision a reality from early on. We've grown quickly, and we've had some very experienced people join our team. That might have been threatening for other founders, but we viewed it as critical to our success.
What is something that you would have done differently, looking back?
When we started TRC, I knew basically nothing about what it meant to start a tech company. I didn't know the difference between a venture capitalist and an angel investor. Alex and I decided that we wanted to start the company, and then said: 'okay, what do we do now?'.
We had informal conversations with investors and found out that the first thing to do was to make a pitch deck. To us, that was all new. If I were to do this again, I'd know so much more about starting a company. That's all hindsight, of course – we simply didn't have that experience and knowledge when we started. 
Another thing I've learned is that it makes a lot of sense to get the right people onboard early on. You want to find out whether your company is viable in the long run very quickly, instead of spending a long time hedging your bets. If you start a company, you've got to be focussed on what your goal is and take some risks to get to that goal. 
Finally, focus on what you want to be the best at. As a startup, your competition is often much bigger and better resourced. You arrive with a newer product and fewer resources, and you have to somehow beat your competition. You need to focus on the one thing that can allow you to do that: your product. We learned early on that creating too many different products simultaneously is really harmful to your success as an early stage business. If you do too many things with fewer resources, you'll never win against the big businesses. It's better to select one thing, do it well, and then slowly expand. 
What is one piece of advice you would give to a startup founder?
Our core vision has been challenged many times by investors. You should definitely listen to the feedback you get on your business idea, but it's also important to remember that not everybody will like your idea. Look for investors who are just as excited about what you are doing as you are. One of the things we learned while raising capital is that the investors who are already excited about the space you're in and the product that you're working on are the ones who will invest in your company. 
What excites you most about working at The Routing Company?
We have a complex (and patented) piece of technology that challenges me everyday and solves a really big problem in the world: the sustainability and livability of our cities. The work is exciting and the problem we're solving is motivating. We've managed to get a fantastic group of people to join the company, which I believe is primarily because we're working on such an interesting problem with such great technology. I truly enjoy working with and being challenged by the people in our team every day.
What is one opportunity for the transit industry right now?
I think this is an interesting moment for transit. There are a lot of younger people who no longer want to own a car and instead are choosing to commute by public transit. It's cost effective and people don't necessarily want to own the expensive asset of a car. People are realizing that cities are so much more liveable when you stop prioritizing cars over the people who live, work, and walk there. Hand in hand with that comes the changes in how people are working because of the COVID-19 pandemic. People are working remotely more, and so patterns of demand for transit services are changing. Bus routes which used to function well no longer have the same levels of demand, and other routes have grown in demand.
These changes create a lot of opportunities to innovate and launch new, sustainable, and dynamic transit services.  We need to make it more efficient to meet new patterns of demand. On-demand public transportation is playing an important role in this transformation, but it does not represent the full solution: we'll still need trains and light rail and fixed-route buses. However, on-demand technology can allow cities to adapt to changes very quickly. Our technology is very flexible. Cities can launch a new service in a day and change the operating parameters in five minutes to meet changing demand. 
If you would like to discuss how The Routing Company could help move your community, please click here to set up a call with our experienced team today. 
If you're interested in helping us move the world, you can learn about our available positions and apply here.