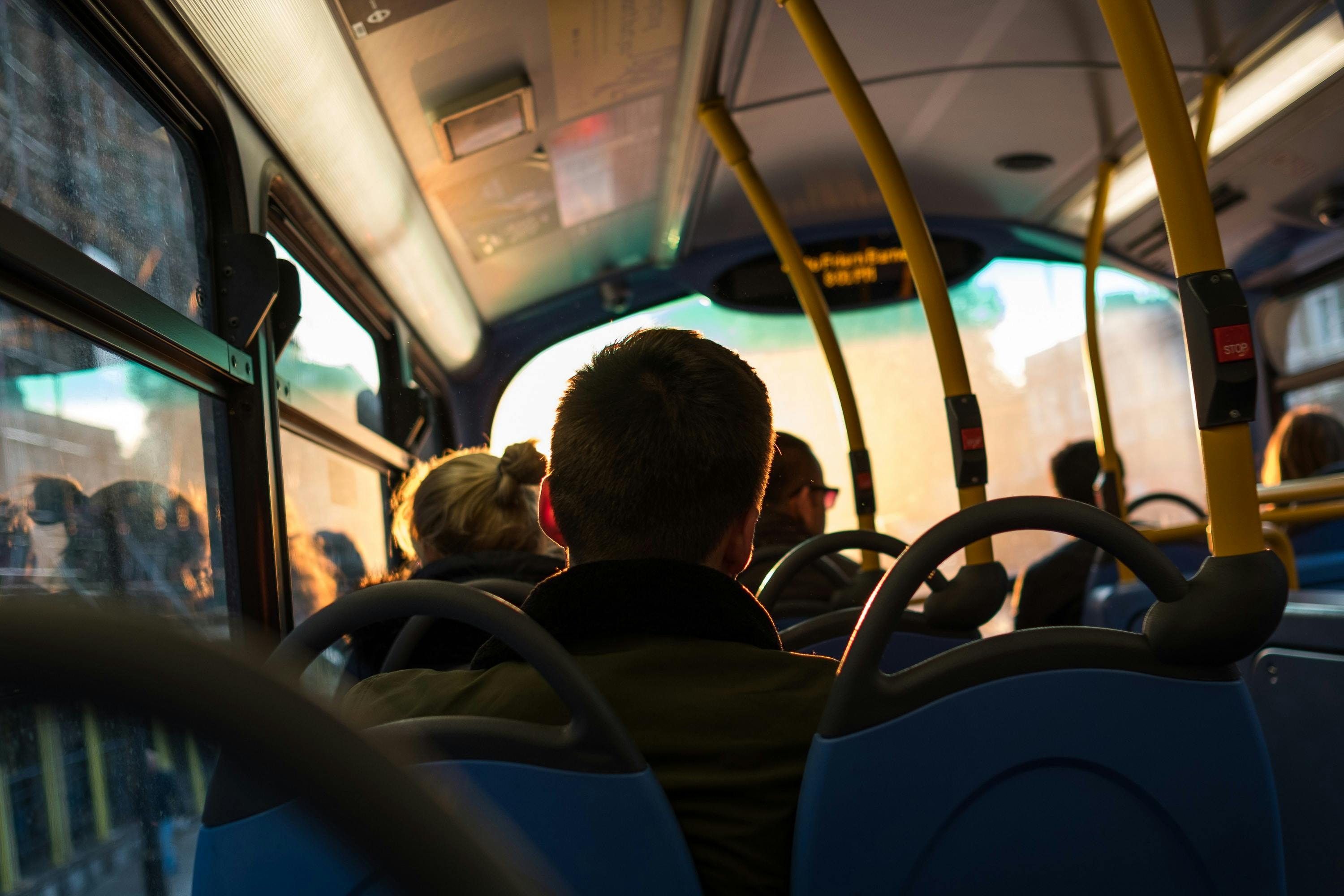 Written by Zharia O'Neal and Dick Alexander
What 40 Years in Transit Taught Dick Alexander About The Way We Move Today
By Zharia O'Neal and Dick Alexander, Chief Development Officer
Dick Alexander's first job in transit was counting passengers. 
During spring break of 1975, he spent 8 to 12 hours each day on a Queen City Metro bus, paper and pencil in hand. He counted passengers as they entered and marked "on and offs", noting the street corners each person started and ended their journey on. (He's confident he got them all.)
Forty seven years later, Dick is one of the most recognized leaders in the North American transit industry. He's former CEO of Transdev North America, the largest private sector operator of transit in the United States, and has helmed operations from paratransit to school buses; from fixed route to autonomous vehicles. Dick has been a manager, consultant, and business developer. He has developed products for transit and represented organizations at conferences around the globe. And now, he's TRC's Chief Development Officer.
With every stop in his journey, Dick's learned quite a bit. Here are a few lessons that four decades in transit have taught him:
Transit has a real-world, real-time impact
In his first urban planning job after graduating, Dick was captivated by the immediate, real-world impact transit could have: "It was very appealing for me to be able to develop a plan and see the results on the street in only months," he says. "Being able to affect change in people's lives is what makes this business so rewarding."
He's no stranger to directly witnessing his impact. As a scheduler in Nashville in the 1980s, Dick developed a route that allowed a senior passenger to travel on the bus for the first time — and every Christmas that followed, she thanked him with a tin of homemade rum cakes. Dick has endless stories like this: transit moves people, in more ways than one.
Failure happens — but how you respond matters most
In the early late 1990s, Dick's company was brought into a major Midwestern city to replace a cab service with a brokered paratransit service contracted to four private operators. The weekend before the switch-over, he discovered that many of the contracted drivers had applied to multiple operators. They'd been double-counted, and now, he was missing two-thirds of the drivers needed. 
"The first weeks were rough.  The system failed the community. We simply had to work the problem. Protect those with life threatening needs. Get the Governor to call for the National Guard to drive buses.  There was no sugar coating the situation. We brought in resources, were honest with our client, committed to fixing the situation. It was a great example of partnership and the power of integrity. Simply do the right thing and the rest will follow." 
The client gave the company glowing recommendations for years to come. Crises happen, especially in transit — but adaptability, tenacity, honesty and commitment to service will always have a lasting impact.
"Big nudges" spark change
A nudge, by Dick's definition, is a large-scale event that sparks a sea change in outside the box thinking. Same old solutions simply don't get the job done. The COVID-19 pandemic is the most recent example: after steep drops in ridership, transit agencies across the globe have had to envision new ways of serving riders whose travel patterns and work styles changed almost at a moment's notice — and it wasn't the first time. 
"The ADA [American Disabilities Act of 1990] redefined our definitions of equity and accessibility," Dick remembers. "It is hard to believe today that our industry actually fought against the idea of adding wheelchair lifts to buses. But we changed and now we embrace and champion issues of equity and accessibility." 
Another nudge? Ride-hailing technology. "For decades, transit was us telling the rider when and where they could use our service and how much they would have to pay. Along comes Uber and the smartphone and suddenly, there was consumer choice. The rider began defining how, when and where they would travel. It forced transit to rethink its offering and redefine success. It became less about farebox recovery and more about access to community jobs, health care and education. On-demand shared ride transit became a thing, as has multimodality, MaaS and IoT solutions. Now, we are an industry built on technology and we see bright, young people pouring into our industry." 
Relationships are everything — and passion is key
Dick describes the transportation industry as a tight-knit, passionate group with incredible warmth — and a common obsession. 
"I know very few people that have gotten into this industry and have said they're going to go do something else after five years," Dick notes. "They may become a consultant, instead of an operator. They may go work for a transit authority instead of a private company, but they're still in the industry." 
And in a warm industry, Dick is known for being particularly so. He's often recognized as  one of the most caring leaders in transit — and revels in mentoring others, whose careers have spanned various job functions, titles, and hemispheres. 
When asked to dole out advice to his 20-year-old self, he replied: "There's got to be a love and passion [for moving people]. If you don't have that passion, I'm not sure this is the right industry for you."
What transit is capable of: real, tangible transformation
In the aftermath of Hurricane Katrina, the company Dick worked for was tapped to rebuild the New Orleans Regional Transit Authority ("RTA"). 
Dick and a colleague introduced a new concept in contracting: Public Private Operating Partnerships (or "PPOP"). "The concept was simple. Take what the public sector and private sector do best, and combine them into a new partnership arrangement." The public sector leadership focused on policy and the private sector focused on implementing that policy, all with the aim of restoring mobility for a city wiped out by a sobering disaster. 
At the five-year mark, streetcar lines flourished, many of them newly built. Bus service had fully recovered, running consistently with refreshed fleets. RTA facilities were restored  from the ground up. By the end of the project, Dick witnessed New Orleans transform back into a thriving community — and considered the city a second home. 
Once the ten year contract ended, the transit authority chose to transition services in-house. Dick couldn't have been prouder handing over the reins: "Projects will come and go. I'm proud of the fact that we grew it to the point where they could move on their own again. That's a good thing. I didn't see it as a defeat, but rather a win."
Do what you love — even when you think you've moved on
When Dick initially retired in 2020 as interim CEO after 22 years at Transdev, he envisioned staying close to the public transportation world as an advisor or consultant. And for a while, he did just that. 
But in his first conversation with The Routing Company two years later, he claims everything started to click into place: "There was always a missing mode in transit, somewhere between fixed routes and paratransit. Transit has always struggled with issues of serving the last mile, serving low density areas, expanding transit's reach into an entire community, not just major corridors.  In The Routing Company, I saw the solution this industry has been looking for. I couldn't resist getting back in the game, exploring the boundaries of technology and working with young, bright superstars." 
He started as TRC's Vice President of Business Development, and now he's Chief Development Officer. Since joining, he's expanded TRC's global reach, grown our team exponentially, and has helped us move the world — thousands of riders at a time.