Our products make transit more convenient and reliable for all
Our Core Suite products are at the heart of all we do. Our rider app Ride Pingo™, our driver app Drive Pingo™, and our operator control center Pingo Dashboard™ are all designed with a user-first mentality, work seamlessly together, and are driven by our uniquely powerful, proprietary Algorithm.
Ride Pingo™ App
An app for all riders: Intuitive, accessible, flexible
Ride Pingo™ is our rider-facing app that connects riders with drivers. Designed with a user-first mentality, it's intuitive and easy to use.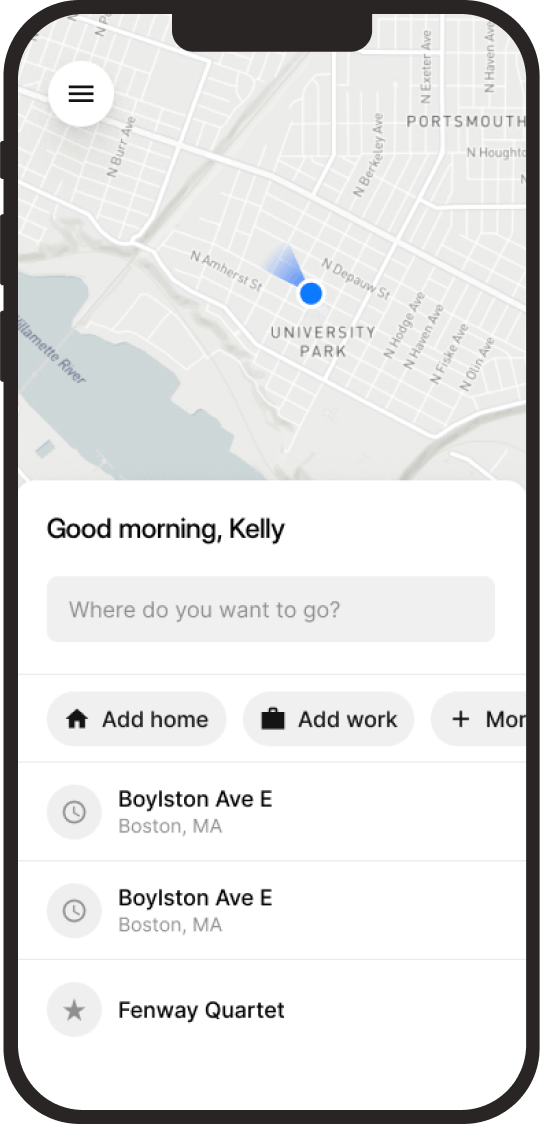 Ride Pingo™ offers the following benefits:
It can be used with a single login in any Pingo™  deployment worldwide.
Ride Pingo™ offers multiple accessible payment options: cash upon boarding (accessibility for the unbanked), in-app payment with a credit/debit card, and/or with transit agency-provided coupon codes.
Ride Pingo™ offers on-demand or advance trip requests and can operate in on-demand, flex, fixed, or paratransit mode.
Extra features such as Pingo Campus™, Pingo Flex™, Transit Connect™, Pingo Access™, guaranteed pre-booking and Pingo Venues™, can be added into the app for an enhanced user experience.
Ride Pingo™ comes in approximately a dozen languages, and automatically adjusts to the user device's default language.
The Ride Pingo™ app has facilitated the movement of more than 265,000 passengers to date.
A seamless user experience:
Pingo users enjoy the same recognizable, easy-to-use format employed by leading rideshare companies.
Riders enter their origin and destination. Using TRC's market-leading algorithm, the app then determines the best on-demand vehicle allocation and routing, while also providing standard fixed-route options.
If needed, riders can specify in advance if they are traveling with a mobility device.
Users have the option of booking a guaranteed ride in advance (within parameters set by local providers).
Riders are kept up to date on the time of arrival of their vehicle, and are able to cancel if needed.
"The app is clear and easy to use."