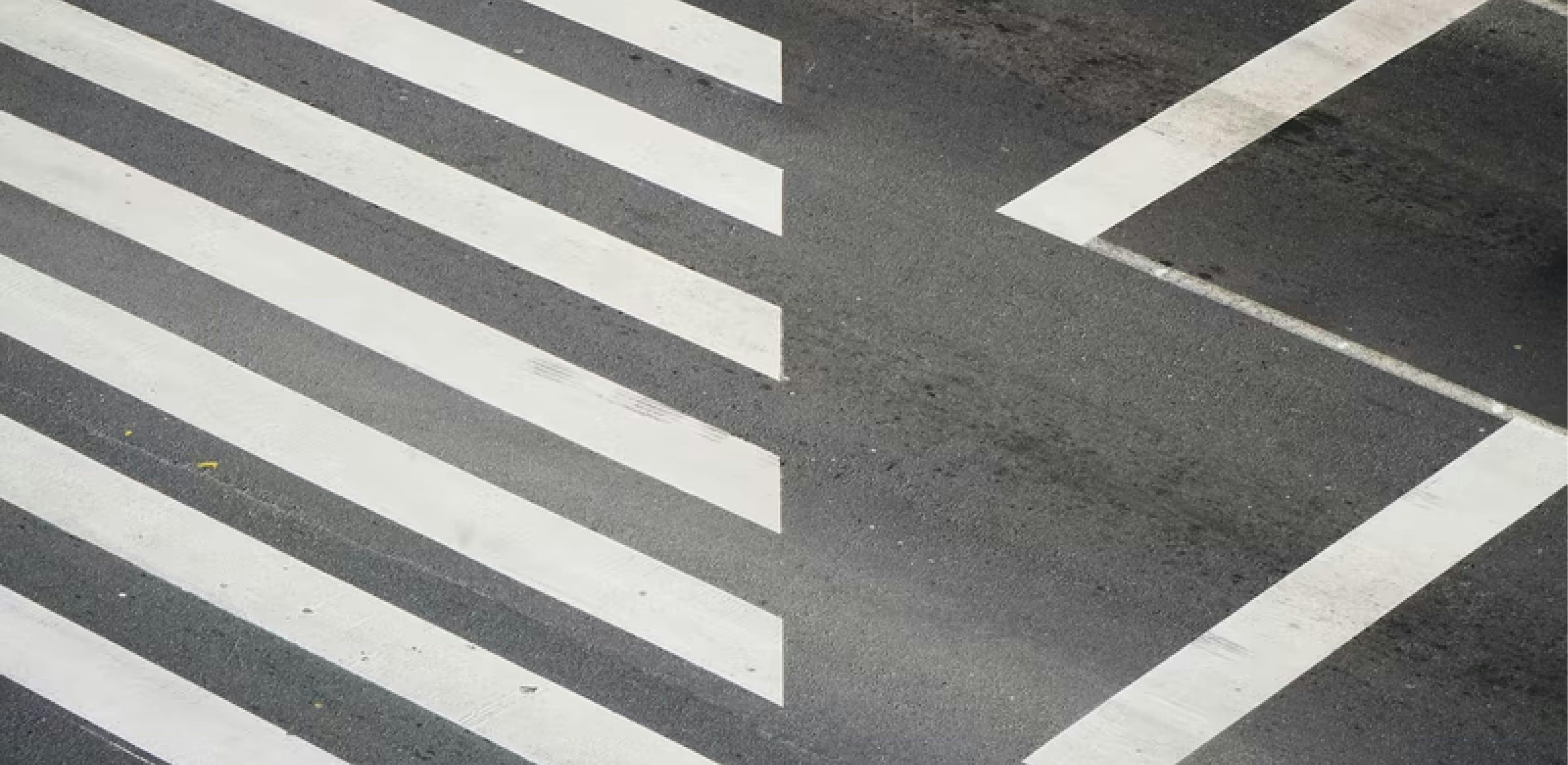 Written by Maxwell Meyers
More Isn't Merrier When It Comes To On-Demand Transit Apps. Here's Why.
By Maxwell Meyers, Senior Program Manager
On-demand transit is in the midst of rapid growth. Today, transit agencies across the United States and around the world are launching pilot and long-term on-demand projects of all sizes – from single vehicle pilots to fleets of over thirty vehicles. Q3 2022 alone saw more than 53 new projects take off globally, with 70% of these projects being on-demand public transit. Unfortunately, this growth has led to the proliferation of hundreds of customized white-label apps that create an industry-wide challenge. 
When transit agencies develop their own white-label apps, the apps start from scratch with:
no users;
no user ratings or reviews;
no real-world experience;
no combined brand; and
strictly limited service areas.
Collectively, these challenges create industry-wide inconsistencies, minimize overall industry growth, and maximize transit agency costs.
The question, then, becomes whether it is possible for transit agencies to use a shared app and still:
maintain agency branding;
continuously innovate;
deliver equitable, affordable on-demand transit;
remain familiar and trusted by their users; and 
update the app frequently.
The answer is an emphatic yes: through a one-app approach. 
Under a one-app approach, all fleets are accessible through a single app. This means that riders across service areas - whether in different cities or countries - only need one app to use local on-demand services. Whilst developing a white-label app may seem to make sense for individual transit agencies in the short term, developing hundreds of custom apps that do not work together is a net negative for the long term growth and health of public on-demand transit. Despite this, most software developers for on-demand transit continue to only develop white-label apps, with well over 100 apps available to download from the app store from just a handful of developers. The solution to this problem is what we call a one-app approach. 
The One-App Approach
The one-app approach will be critical for getting on-demand transit right in the long run. A one-app approach means that many transit agencies can use the same app while still maintaining full control of branding and custom fleet parameters within their service area. This approach generates significant long-term advantages in terms of ridership, marketing, cost, user experience, and enabling learning across transit agencies. The Routing Company's single rider app, Ride Pingo, was specifically built to achieve these goals.
For a one-app approach to be successful, agencies must be able to customize their service. This is especially important in relation to branding and custom fleet parameters, or, put simply, the features typically associated with "white-labeling." 
For example, Pingo lets agencies create their own branded splash screens (i.e. the pop-up screens that users see when they open the app), service names, logos, color-schemes, vehicle icons, and weblinks all in-app. This means that someone using the Pingo app in Kitsap County, Washington, will have a different branded experience than a CyRide rider in Ames, IA, or a Bus a la Demanda riders all the way in Andorra even though they can use the same app to access all fleets.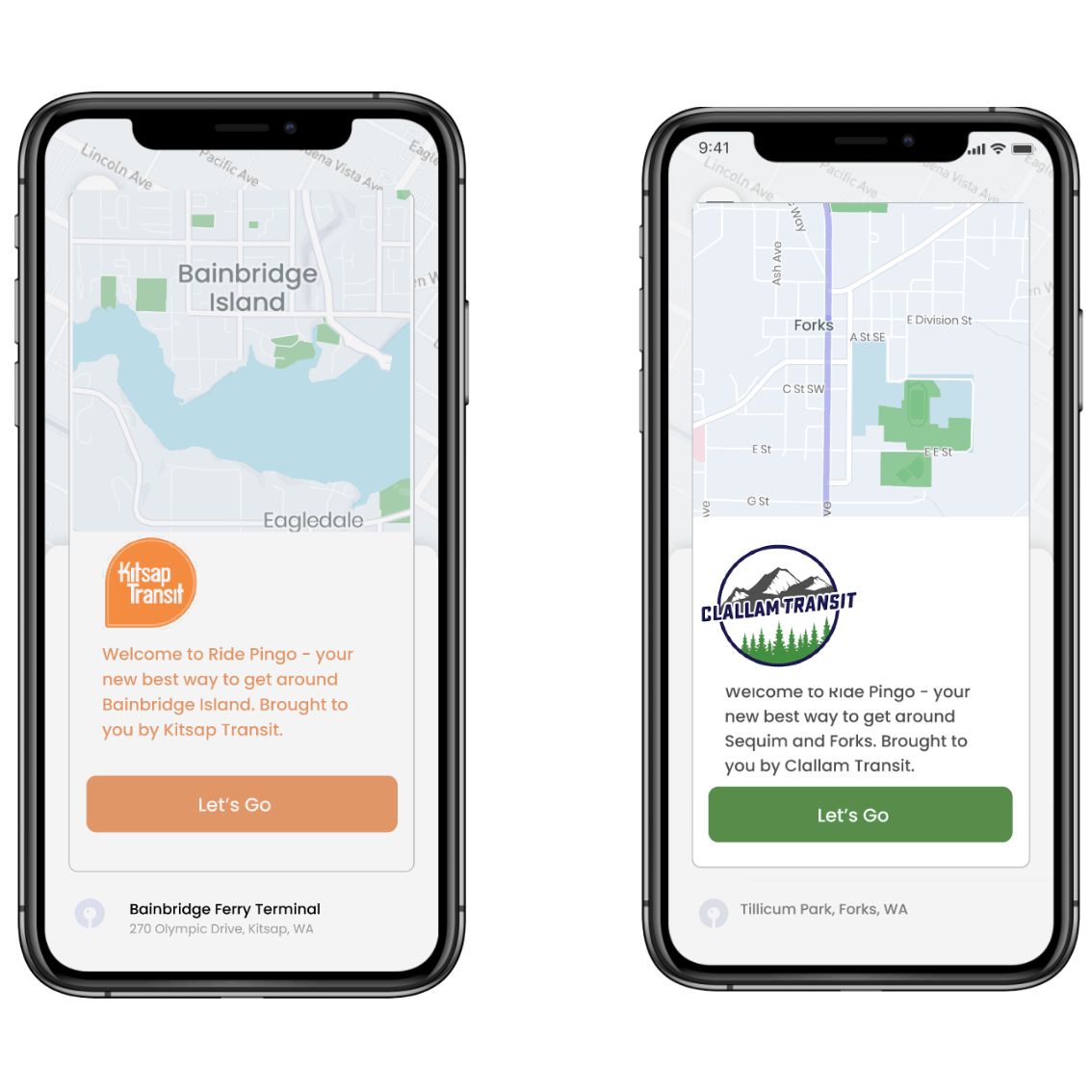 There are four key benefits of the one-app approach.
Transit Agency Benefits
The following key features of the one-app approach benefit transit agencies.
Partner-Driven Innovation
The one-app approach allows transit agencies to benefit from new features developed for other agencies. This allows cutting-edge innovations to spread easily across transit agencies, which benefits the entire public transit ecosystem utilizing Pingo. As new features are developed, agencies can choose whether or not to activate these features - and they can change their mind at any time. 
For example, in 2021, King County Metro wanted the Pingo app to connect riders to nearby fixed-route services. In collaboration with Metro and the U.S. Department of Energy, TRC developed a feature that schedules and prioritizes connections for riders to existing fixed route networks, now known as Transit Connect™. Since its inception, Transit Connect has a 99.5% success rate in ensuring riders make their onward fixed-route journey. This success demonstrates the Pingo platform's commitment to making on-demand transit a key part of the overall transit network. Because of our one-app approach, Transit Connect™ is now available to all our agency partners and has been launched by the overwhelming majority of them.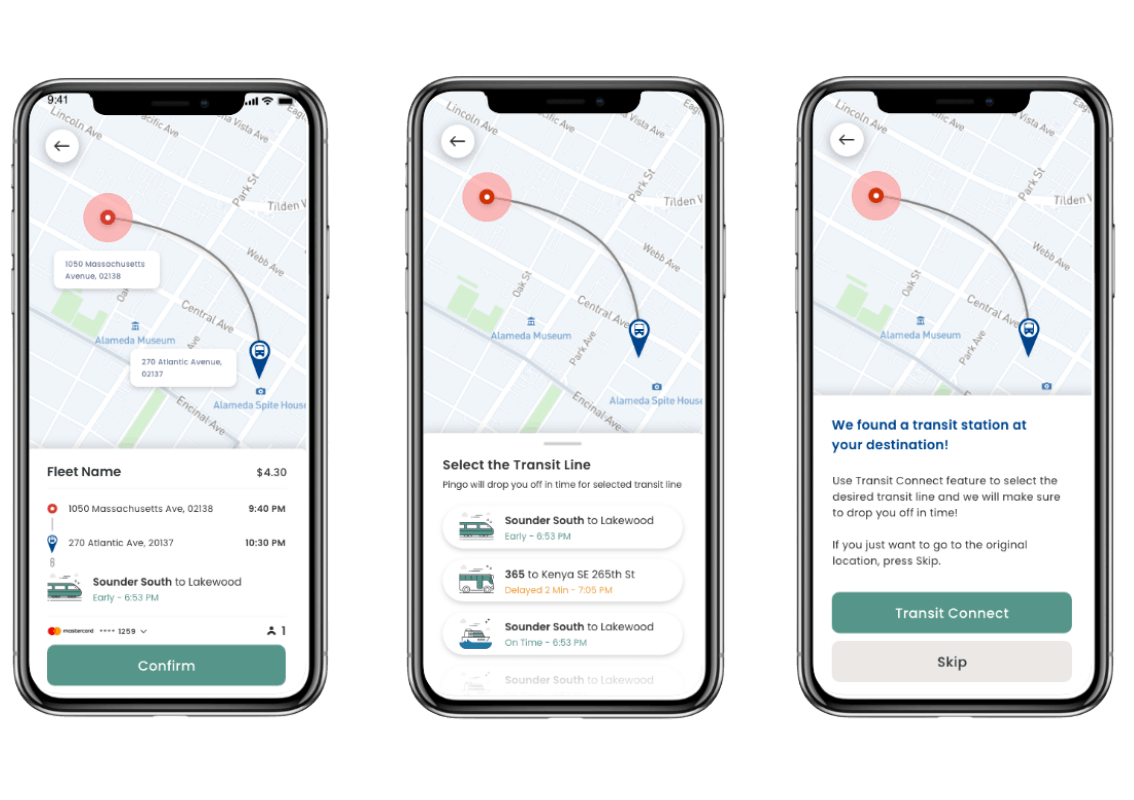 Always Up-to-Date
While we update our Pingo app twice a month, other on-demand white-label apps are typically updated only once every few months or even annually. The one-app approach allows for far more frequent upgrades than the average white-label app for two critical reasons. 
First, rather than an engineering team being stretched thin preparing similar but distinct updates to dozens of apps, our engineering team is always 100% laser focused on one app: yours. No matter the size of your fleet or contract, your app will always be our top priority. Second, it is significantly more time consuming for Google and Apple to review individual updates for dozens of apps rather than just one app. 
Rider Benefits
In addition to benefits for agencies, a one-app approach also benefits riders. These rider benefits are set out below. 
Familiar and Trusted
It is easier for riders to find and download a known, trusted app that has dozens of positive reviews and ratings rather than a new white-label app that has no ratings or reviews. An app with a proven record in the iOS App Store and Google Play will have improved user searchability, marketing, and more reviews than a one-off white-label app. For example, Pingo's 4.8 user rating ensures that new riders can find it quickly, feel comfortable downloading it, and are more likely to try the service for the first time. This has the added benefit of making it much easier for transit agencies to launch service quickly and hit the ground running.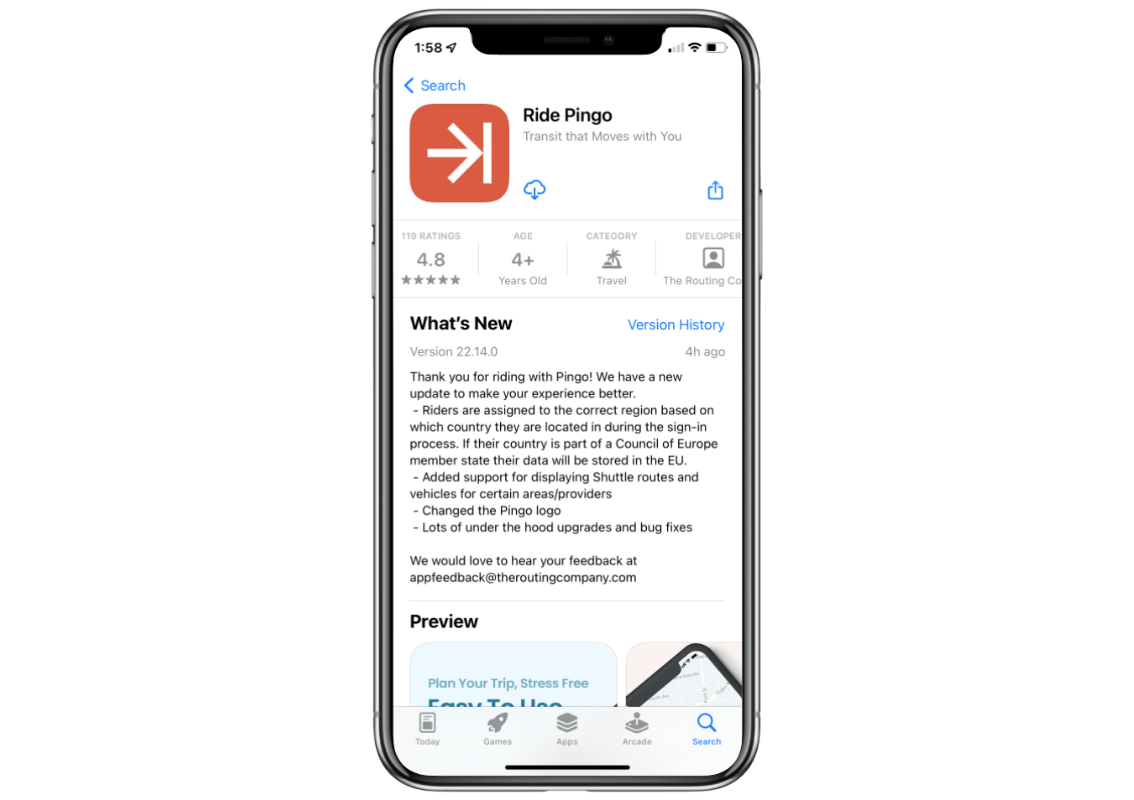 Different Regions, One App
The one-app approach allows riders in different regions to access different agencies' services using the same app. This means that a user only has to download and register with one app. When traveling outside their typical service area, riders can check their usual Pingo app to see what services are offered where they are. This convenience is impossible to achieve with a white-label app that has no utility outside its preset service area. 
In Washington State, for example, Pingo is currently used by the neighboring county transit agencies King County Metro, Kitsap Transit, and Clallam Transit. This means that users all across the Greater Seattle region can use one app – Pingo – rather than having to download separate King County Metro, Kitsap Transit, and Clallam Transit white-label apps. This is not a theoretical benefit: Pingo riders are already routinely using service in different locations using our one-app.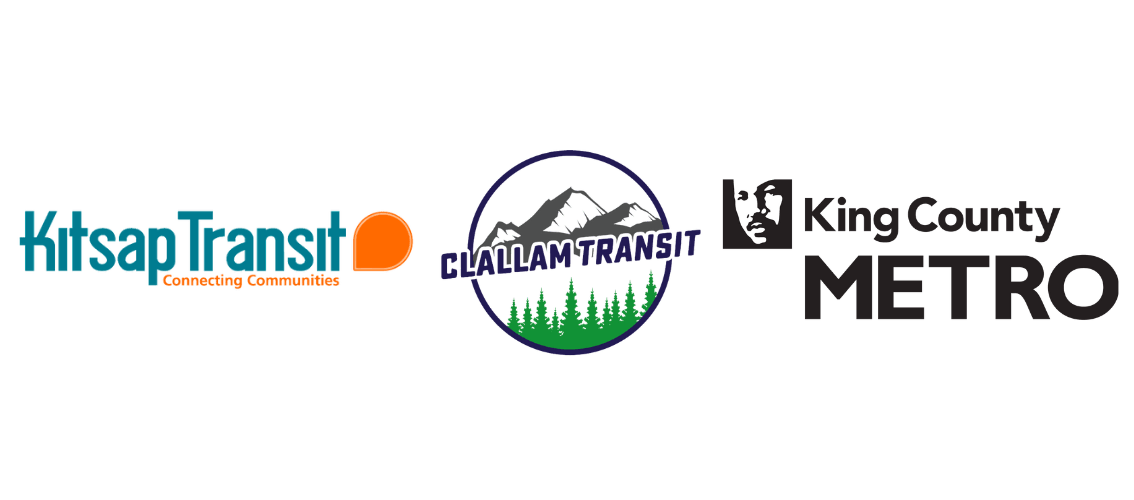 Key Takeaways
The explosive growth of on-demand transit over the past few years has been exciting to witness. With this growth, however, the proliferation of hundreds of white-label apps has created a challenge that threatens the long-term health of the on-demand transit industry.
No one wants to download and use a different app for every transit service they use. 
The solution, a one-app approach: 
gives transit agencies the customization over branding and fleet parameters they seek; 
prevents an overcrowded, inefficient on-demand industry landscape; and
delivers more frequent innovation and updates than white-label apps.
From the rider perspective, the one-app approach: 
gives users confidence when they download a known, trusted app; and 
minimizes the number of apps that users have to download in the first place.
Put simply, the one-app approach is critical for getting on-demand transit right in the long run.
As the field of on-demand transit matures, transit agencies must continue to demand excellence from their apps. Looking ahead, we urge agencies not to compromise on what they want: maintaining control over their branding and custom fleet settings, while also avoiding the problems that white-label apps have been proven to bring. Transit agencies can effectively balance their needs of maintaining personalized branding and in-app customization with a well thought out and executed one-app platform. 
TRC's Pingo platform offers a market-leading alternative to the status quo. If you have any questions or would like to discuss how The Routing Company could help move your community, set up a call with our experienced team today.