Customize your service with our award-winning Features
Whatever you're looking to provide your riders, our features will help you do it. For more detail on how our products and features work together, see the Comparison tab.
Pingo Journey™
Plan an end-to-end journey with this world-first feature
Pingo Journey™ turns the Ride Pingo™ app into a one stop transit shop. A world-first for an on-demand transit app, Pingo Journey™ lets users plan an entire journey door-to-door across all available modes of public transit.
The feature recommends the best combination of standard or paratransit on-demand, flex routes, fixed route buses, rail lines, ferries and all other available modes to get users where they want as quickly as possible. Pingo Journey™ uses real-time transit data and integrates Google Maps functionality.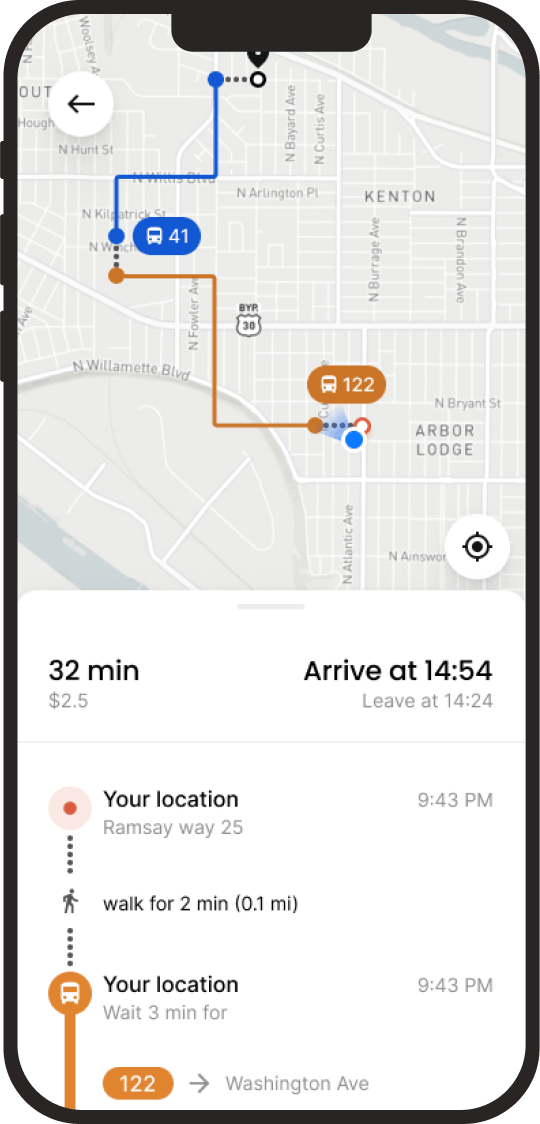 Pingo Journey™ is a direct complement to TRC's existing app feature, Transit Connect™, which guarantees connections for riders to existing fixed route networks. Thanks to Pingo Journey™ and Pingo's Transit Connect™, on-demand services no longer exist in a vacuum.
Pingo Journey™ is easy to use. When users enter their origin and destination, they are provided with the range of available multi-modal trips. Where a trip includes a Pingo™ vehicle, that vehicle can be requested within the app.