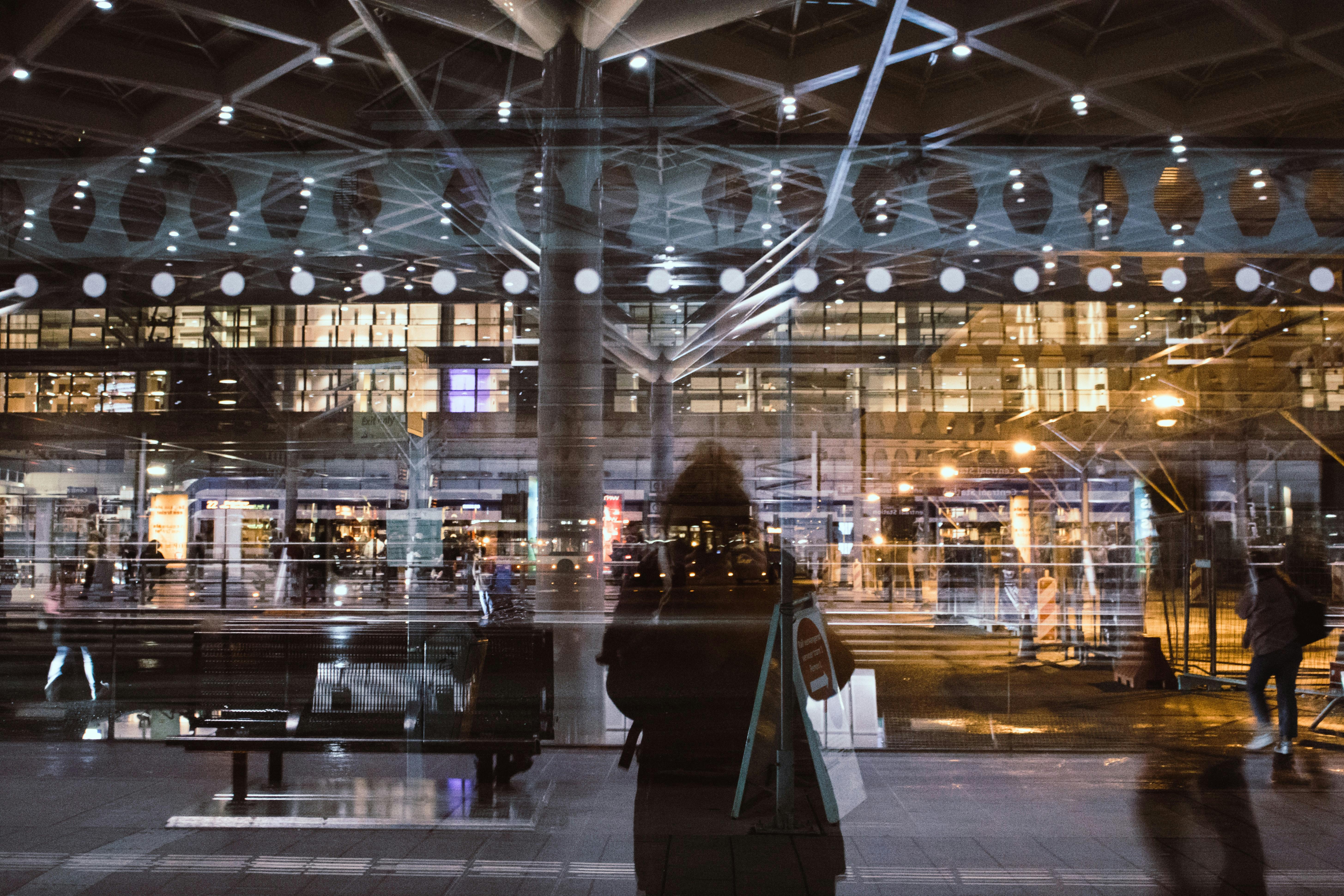 2022 | A year in review at The Routing Company
By James Cox, Chief Executive Officer
Our mantra at The Routing Company has long been to move the world. In 2022, we introduced a fresh TRC brand and with it, a new mission statement: 
We power sustainable cities with convenient and reliable transportation for all. 
Over the past year, we've proven that we can do just that—across different continents, in multiple languages, with new products, and for diverse clients. We grew our team, refined our mission, moved more riders, and won awards. It's been a big year.
As we step into 2023, I want to pause to reflect on what we've achieved in the past twelve months. 
Grew the team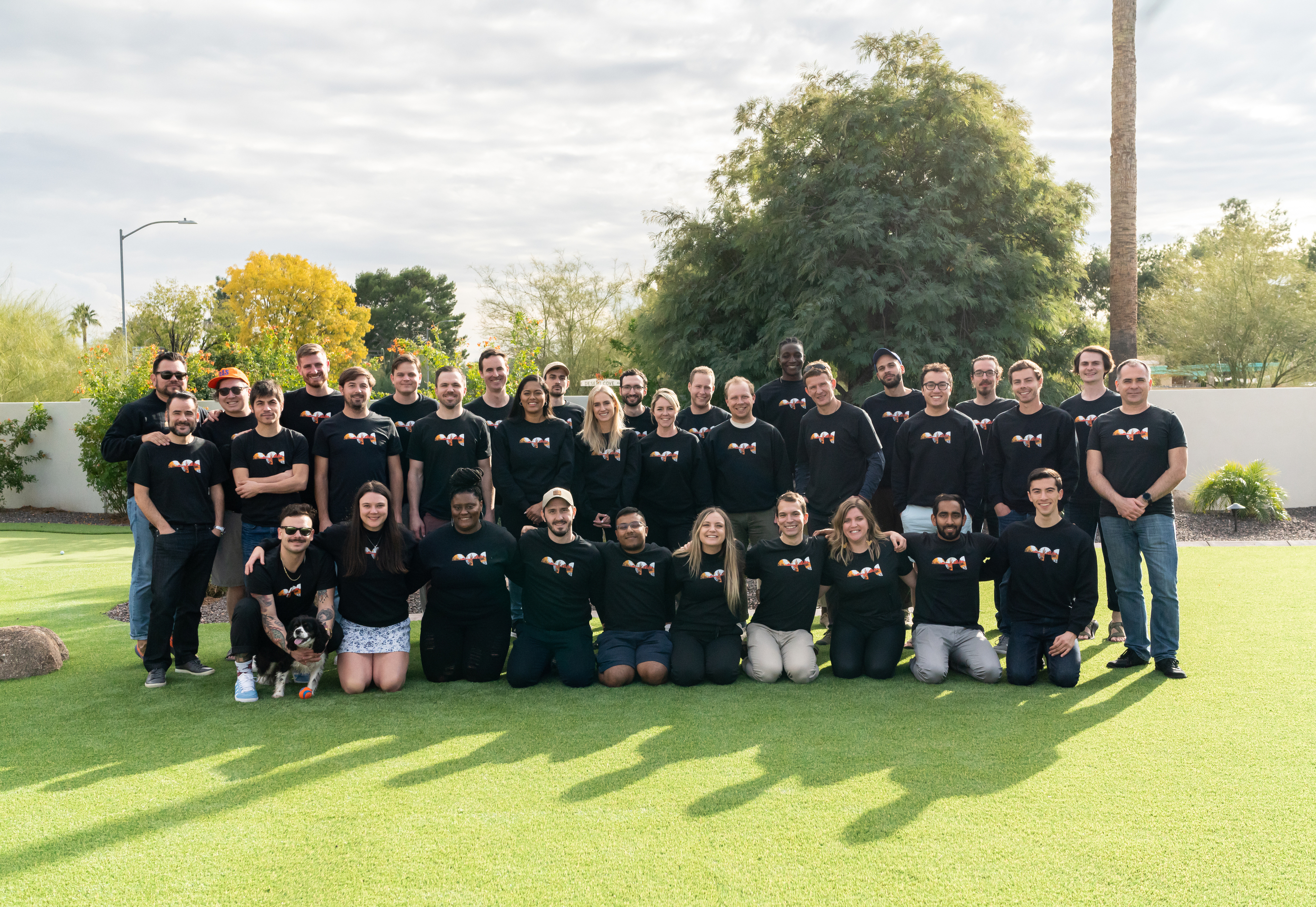 Far from where we began three years ago, The Routing Company ended 2022 as a team of more than 40 people working together around the world. In March, we raised $15 million in our Series A financing round, led by global climate activist and investor Tom Steyer's fund, Galvanize Climate Solutions. Using this funding, we expanded our team and brought new transit knowledge, experience, and passion for our mission to TRC.  
In 2022, we appointed, amongst others: 
Refined our mission
We introduced new branding for TRC and the Pingo platform, and distilled what we do into a simple statement — which I'll write again here, because it rings true: we power sustainable cities with convenient and reliable transportation for all. 
Our purpose and vision is that any community of any size, in any place, with any resources, can meet the transportation needs of its people. This has been at the heart of what TRC was built for since the very beginning: moving the world.
Surpassed 200,000 riders moved
In 2022, we rocketed past the milestone of 200,000 riders moved around the world—a humbling accomplishment that testifies to riders returning to use our service time and time again, as well as the efficiency of our platform. With the help of Pingo, transit operators can regularly fill 18-person shuttles on-demand, and move up to 24 people per vehicle hour (PAX/VRH).
We're not just celebrating moving over 200K people—we're celebrating the way we move them. TRC continues to prove that on-demand transit can be a convenient, affordable, inclusive, and sustainable transportation option for communities everywhere – no matter their mobility or income level.
Demonstrated unmatched utilization stats
And speaking of humbling statistics, I wanted to share some 2022 stats that demonstrate the real-world impact of TRC's products: 
We see over 24 passengers per vehicle-hour at peak hours across multiple fleets.
We proved the Pingo platform's staying power, averaging more than 8.5 passengers served per vehicle-hour in Escalades-Engordany across all peak and off-peak service hours. Check out the data below: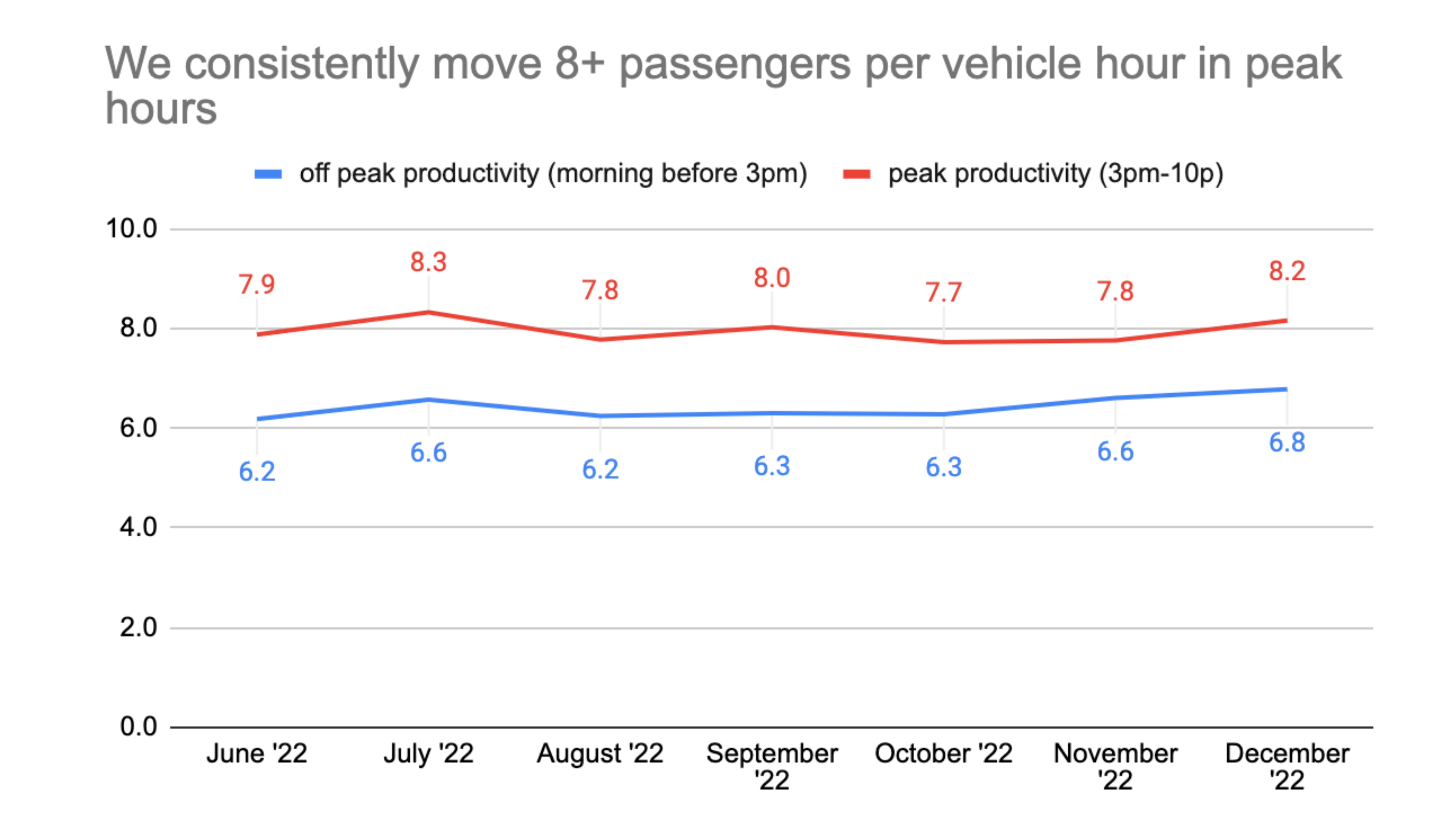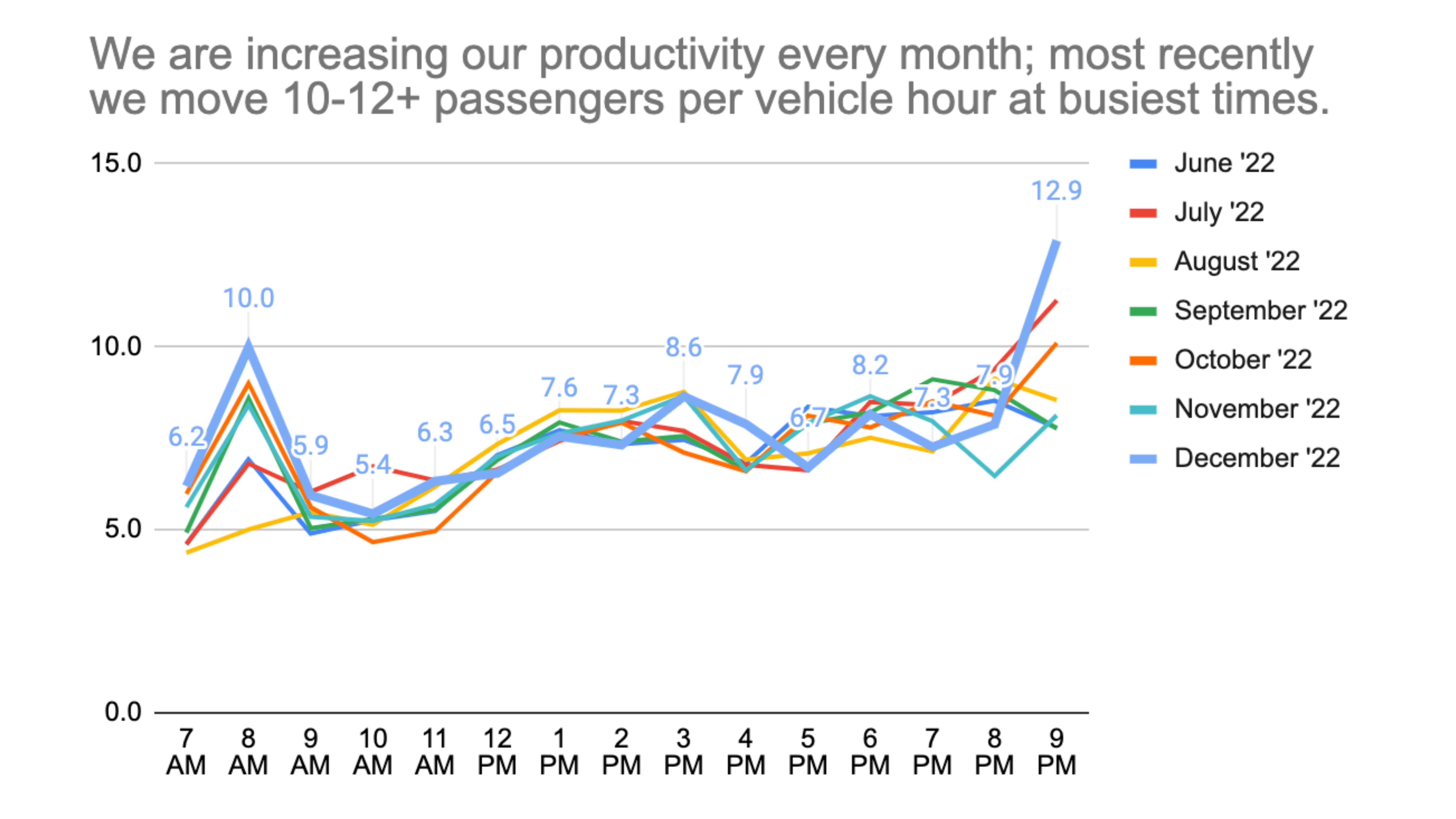 We reached 40,000 unique app users; and
We launched 9 new services in Europe and the United States.
Landed contracts in the US and Europe
2022 was a year in which TRC landed contracts on both sides of the Atlantic — and launched 20 new deployments.
 At TRC, we offer a suite of products that power fixed, flexible, and on-demand buses: 
On-demand and flex route transit powered by our flagship suite: the Ride Pingo™ app, Drive Pingo™ app, and Pingo Dashboard for fleet operations.

These can include our in-app products: Transit Connect, a feature that guarantees connections to existing fixed-route networks, Venues, which allows transit agencies to define central pick-up and/or drop-off points within a service area, Pingo FlexPingo Flex, which gives service providers the power to add on-demand elements to their existing fixed routes, and Pingo JourneyPingo Journey, a breakthrough feature that allows passengers to hail on-demand transit rides and plan their transit journeys in one place.
Pingo Campus for corporate campuses. 
Pingo Campus for universities. 
We announced several new US contracts this past year, including Pingo Campus™ service with Virginia's VCU, and flagship Pingo platform service with Iowa's CyRide, Lassen Transit and Fairfield and Suisun Transit ("FAST") in California, and Washington's Clallam Transit. 
In Europe, we signed a three year deal for on-demand public transport with The Hague municipality in The Netherlands. Both our Ride Pingo™ and Drive Pingo™ apps will be available in Dutch, marking the first time the language is offered across the Pingo platform. 
In December 2022, TRC was accepted as an official supplier on G-Cloud 13, the United Kingdom's Crown Commercial Service platform that oversees £3 billion in annual purchases. 
Today, TRC powers four on-demand fleets in Europe, from Scotland to The Netherlands.
Won awards
Doing the work is its own reward — but in 2022, we were humbled to be recognized for the strides we made in sustainable transportation: 
TRC was named a winner in the Colorado Smart Cities Alliance Challenge, which sought proposals for innovative smart city solutions that addressed key challenges faced by Colorado communities. 
TRC also won a Metro Magazine 2022 Innovative Solutions Award. TRC was selected alongside King County Metro in recognition of its Ride Pingo to Transit pilot program in Kent, Washington. The program provides on-demand transit service in Kent and connects passengers to and from transit hubs at Kent Station and in the Kent Valley.
Added to our award-winning product suite
We also launched new products within the Pingo™ platform in 2022: 
In early 2022, we launched Pingo Flex™, allowing agencies to operate anywhere on the spectrum from fixed route to fully on-demand transportation. 
Pingo Journey™ followed in October. With the introduction of Pingo Journey, Pingo became the world's only app allowing riders to hail on-demand transit services and plan complete journeys to a final destination by using all existing transit modes in real-time. 
In December, we deployed Pingo Campus™ for the first time at Virginia Commonwealth University to serve its community of over 50,000 students and staff. Pingo Campus is optimized for academic and corporate campus transport.
And now, in Q1 2023 — and beyond
I said 2022 was a big year — and 2023 is looking even bigger. There's already lots to look forward to: further expansion with new deployments and exciting new product launches built to transform the way we move and power sustainable communities. 
The Routing Company was built to move the world. Our story began in MIT and TU Delft labs, and now we've moved 200,000 people across three continents. It's a long, incredible road ahead—and we're just getting started. 
James Cox
CEO of The Routing Company